The Health Benefits of Walking 30 Minutes Each Day
One of the great ways to keep healthy and fit especially during travel is to get out there and walk!  The Health Benefits of Walking are absolutely incredible for body and mind.  Having had a number of physical injuries over the years and as I get older, walking for health and exercise has become increasingly important for maintaining overall health and wellness.
Below, I've shown just a few of the great reasons why you need to or continue to get out there and walk each and every day! J
A Few Great Reasons to Start Walking
My wife and I are baby boomers and maintaining our overall heath and well – being is priority number one.  We want to continue to travel and enjoy life to its fullest extent for as long as we can. Despite the number of ailments and injuries the two of us have had over the years, we certainly don't use that as an excuse not to get outside and exercise.
Walking is a perfect low-impact exercise that most everyone can participate in and doesn't cost a thing!
Health Benefits of Walking – Taking a Walk Boosts Energy
Getting outside in the fresh air and going for a walk will increase circulation and oxygen supply to each and every cell in your body and with this you will naturally become more energized and alert.  We hear and read about it time and time again, to get off the couch and move to stay healthy!
Walking Will Strengthen Your Heart
There's no better way for those of us aging or anyone for that matter to help reduce your risk of heart disease and stroke is to get out there and walk. If you can manage a brisk walk, it can be an excellent cardio exercise.  On top of that, it can also help to reduce levels of LDL (bad) cholesterol and at the same time increase your levels of HDL (good) cholesterol.
It has been proven over and over again my medical professionals that by taking a brisk 30-minute walk every day will help prevent the risk of stroke significantly.
Health Benefits of Walking Lowers the Risk of Diabetes
Statistics obtained from the medical profession have shown that a regular walking routine helps reduce your risk of type 2 diabetes by approximately 60 percent.  Many other health associated ailments are also highly reduced by staying active and moving the body.
Walking Will Help in Weight Loss
This is a no brainer really, if you move, you lose! 😉 It is possible to burn as much as 150 calories or more by walking briskly for 30 minutes depending on your speed.  Burning calories is great, but actually getting your body outside or even on a treadmill and moving is what the health benefits of walking is all about.
Health Benefits of Walking – Walk for Muscle Tone
Certainly as we age, maintaining muscle tone and strength becomes more and more important.  Experts insist even weight training is more important for the elderly then younger people.  Walking will definitely help keep your muscles toned and strong, which definitely can prevent injury and health issues as we age.  So another great reason to go for your daily walk!
Walking in the Sunshine
Getting outside on a nice sunny day is not only great but can also naturally increase your Vitamin D. Walking is the perfect way to enjoy the outdoors while getting your vitamin D fix. This vitamin is crucial for our immune systems and in keeping our aging bones healthy!
Walking Affects Your Mood
Feeling a little down or depressed?  Well there's good news!  Studies and experts have revealed that going for a walk releases those feel-good endorphins which helps reduce stress, anxiety and even depression.   So improve your mental health as well and walk.  I know I certainly feel better just getting outside in the fresh air, especially on a sunny day!
Your Body on Walking
Below is a colorful infographic outlining 20 excellent benefits for getting out there and taking a walk.  It doesn't cost you a penny, is great your physical and mental health and walking daily just might improve your chances of living a longer healthier life.  Walk every day and especially while on vacation and traveling.  Nothing beats a walk on a beautiful tropical beach!
That's it from me; I'm getting away from this computer and going for a walk!  Be sure to check out one of my latest articles on the Health Benefits of Swimming as well!
If you are Serious About Your Health, particularly during travel, then have a look at this amazing health supplement my family and I have been taking for years. It involves one of the most important ingredients in our bodies – Glutathione!
I am proud to be a RobKellerMD Natural Health Products Affiliate and always enjoy sharing my story with others! Just click on the Banner Below or Check Out My Recent Posts on the Benefits of Glutathione For Healthy Travel , as well as The Best Glutathione Supplement for more detailed information.
Doctor RobertKeller MD Health Supplements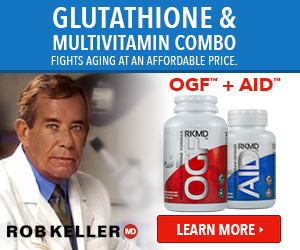 Learn much more about this exceptional health supplement and their other line of wonderful products, by visiting their Official RobKellerMD Webpage. If you prefer, just click on the RobKellerMD Colorful Banner above and it will take you directly to their official website as well.
Receive 50% Off on Any of their wonderful health products through Dr. Keller's website, Contact Me Directly for an Official Coupon Code to receive a 50% Discount on Your First Order and a 30 day, empty-bottle guarantee.

If you have any questions regarding ordering or this product, don't hesitate to send me a note via my Contact Page and I will get back to you as soon as I can. I'm always happy to share my story and experience with others! 🙂
Please Note: The information contained within this website has not been evaluated by the USA Food and Drug Administration (FDA). RobKellerMD Nutritional Supplements are not intended to diagnose, treat, cure or prevent any disease.
* As an Affiliate Member, I do receive a small commission for sales, which in turn, help me to maintain my travel blog and contribute to one of my favorite world-wide charitable organizations called Kiva.*
"Helping Those In Need … Help Themselves"
Safe & Healthy Travels!
If you enjoyed reading this article, make my day and share it with your Friends by clicking one of the Social Media icons below. As well, Never Miss a New Post or Update – Subscribe Below to Receive My New Colorful Monthly Email Newsletter! Or if you prefer, visit My Newsletter Page
Thanks 🙂